Coach Joe and some seniors at Icahn Stadium.
Seniors at the year-end track party showing off posters that note their nicknames, college destinations, and track highlights. The posters are created every year by the Juniors.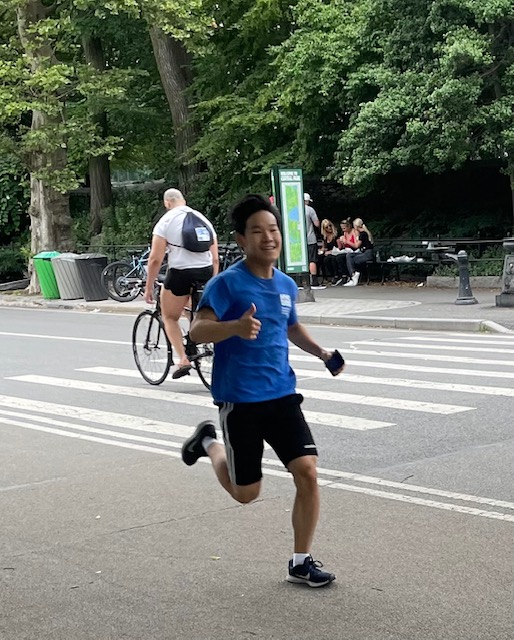 JDUB training for the steeplechase with some 400-meter repeats in Central Park. He'll compete next month at the Junior Olympic Regionals.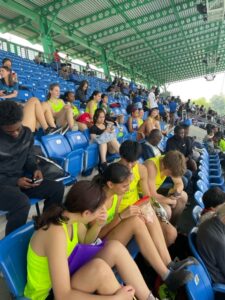 Chillin' between races.   
John-Lee already knows how to chill!
John-Lee showing off his Bronze medal and talkin' shop with a fellow medal winner.
Video (42) John-Lee wins 8 and Under 200. (Race was combined with a 10-year old)
Video_1 (21) JDUB runs 12.28 PR in the 100.
Video (44) Fab frosh Josh Moore takes Bronze medal in 15-16 Boys 100. His time of 11.61 set a new MNTC record!
Video (43) MNTC has four entries in the Girls 4×100 relay.
Video (45) MNTC wins 17-18 Boys 4×100 relay and sets club record!
John-Lee, MNTC's youngest member at age seven, made a big splash at the Junior Olympics in Nashville. Competing in his first ever track meet, John-Lee won Gold in the 8 and Under 200-meter dash and Bronze in the 100. Congratulations, John-Lee, and welcome to the wonderful world of track and field!
Up at Icahn Stadium in the Big Apple, 29 MNTC athletes participated in the Junior Olympics and 23 qualified for the Junior Olympic Regionals next month in Craryville, New York. Over the course of the two-day competition our MNTC athletes set nine new club records and our 17-18 Boys and Girls won the Combined Team Trophy, besting twenty-five other clubs. New records were established in the Boys' 100, 200, 800, 4×100 relay, steeplechase, high jump, long jump, and discus, and the Girls' long jump. During the Indoor season our squad racked up an impressive total of new team records, 20 to be exact! The Girls posted new marks in the 1000, 1500, Mile, 3000, 4×200 relay, 4×400 relay, sprint medley relay, and the long jump. The Boys contributed new standards in the 55, 60, 200, 400, 800, 3000, 4×200 relay, 4×400 relay, sprint medley relay, long jump, and high jump. Please visit the Indoor and Outdoor Records section on this site to view the new records and our All-Time lists.
Coach Joe